Commercial & Residential Landscape Lighting
Commercial and Residential Landscape Lighting and Maintenance 
Light Up the Night
Lighting provides illumination and safety to a property, but the right lighting can make a property really shine. At GreenScapes, we consult with our customers to design a customized lighting system that meets your property's needs. Light up your pathways and driveways, and provide customers with both safety and the dramatic beauty that comes from a well-designed lighting system.
With path lights and accent lights tailored to your specific needs, GreenScapes ensures that your lighting system complements the features of your property, adding both aesthetic appeal and functionality to your outdoor spaces.
With a GreenScapes lighting system, you can:
Highlight the design of your property
Enhance the beauty of your lawn or garden
Create nighttime entertainment spaces
Improve the safety of your driveways and walkways
Install brand new lighting
Update existing lighting, or replace outdated or broken lighting
GreenScapes offers needs-based design services for your lighting project.
We work with you to generate a drawing (or update your CAD file) that incorporates design, electricity, irrigation, and other features of your property, so you get a finished result that works with your vision.
We emphasize professionalism in all our endeavors, and that starts with our employees. At GreenScapes, we provide our employees with continuing education in the off-season, so you can be sure they're knowledgeable and skilled when they're tending to your property. When you hire GreenScapes for your maintenance needs, you're hiring a professional organization with deep roots in the Louisville community.
Accountability is important to us, so we document every visit. We own our own equipment and don't rely on outsourcing or subcontracting, so our team members are on site when it's convenient for you.
Quality, Professionalism, Accountability
Contact us or call to receive a free quote on your landscape lighting project.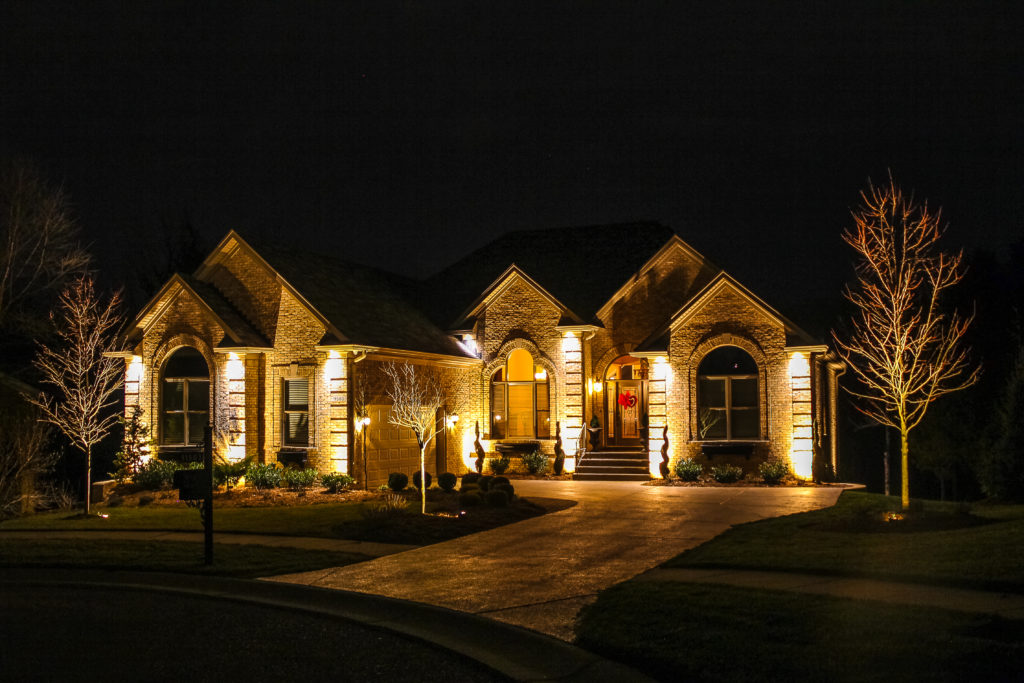 Rain or shine, Greenscapes' landscape lighting always makes your home the brightest in the neighborhood. We offer a combination of solar-powered or wired landscape lighting."